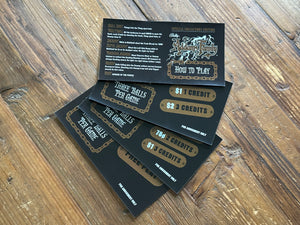 Loop Combo Pinball Mods
The Addams Family Gold Apron Card Set
Regular price
$10.00
$0.00
Put away those boring old stock apron cards and install this sharp looking custom-designed set!
Just like our Backlit Signs mods, we design our apron cards to match the existing apron artwork so they look like they've been there all along.
This set is the same artwork as our regular TAF set, but colour-matched to the gold ink used on the Special Collectors Edition. If you're lucky enough to own a TAF Gold, this is the set for you.
Printed on quality stock with a gloss laminate.
Comes in a set of four including How to Play, Free Play ("Shoot again! We've got a whole bucket full!") and two common pricing options.